Why Choose Renewal by Andersen® of Northwest Ohio?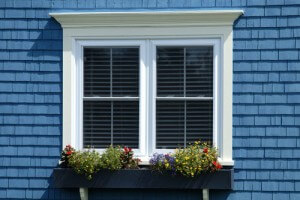 From high quality materials and elegant designs, to precise installations and deep warranties, there are plenty of reasons to choose Renewal by Andersen® of Northwest Ohio when you need replacement windows in Toledo, Ohio or any of the surrounding areas.
Advanced, Energy Saving Materials
Our windows are available with Renewal by Andersen's exclusive High Performance™ Low-E4® SmartSun™ glass, which is 70% more energy efficient in summer and 45% more energy efficient in winter as compared to ordinary dual panel glass.* That type of energy efficiency will mean year-round savings on your heating and cooling bills, something every homeowner can get behind.
Stylish Designs
We offer a full range of beautifully crafted replacement windows and custom-fit each style to meet the exact specifications of your home. With the help of our experienced design consultants, Renewal by Andersen windows will help you to create a more attractive home.
Experienced Installation Teams
As your exclusive local source for Renewal by Andersen replacement windows in Toledo, Ohio, we follow a precise, time-tested replacement process that helps to ensure that your new windows are installed on-time and on-budget, with a precision that will last for years to come.
Protecting Your Investment
Renewal by Andersen offers one of the strongest window and door replacement limited warranties you will ever find.** These warranties help protect the investment that homeowners make in their homes when they turn to Renewal by Andersen for durable, stylish, energy efficient windows.
FREE Estimate on Replacement Windows for Bowling Green Ohio Area Homeowners
Don't hesitate to upgrade the appearance and energy efficiency of your home. Call the local experts at Renewal by Andersen of Northwest Ohio for a free consultation on replacement windows and doors.
*Values are based on comparison of Renewal by Andersen® double-hung inserted window SHGC to the SHGC for clear dual pane glass non-metal frame default values from the 2006 and 2009 International Energy Conservation Code.
**See the Renewal by Andersen® 20/2/10 limited warranty for details.
"Renewal by Andersen" and all other marks where denoted are trademarks of Andersen Corporation. © 2015 Andersen Corporation. All right reserved.