Our Process for Window Replacement in Toledo Ohio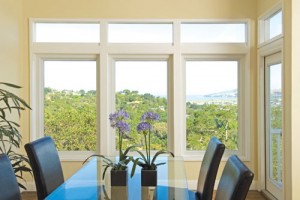 At Renewal by Andersen® of Northwest Ohio, we take great pride in our ability to simplify the process of window replacement for Toledo, Ohio area homeowners. By laying out a step-by-step guide before we begin our work, we find that we eliminate any confusion and help homeowners to know exactly what they are receiving for their investment. This is a time-tested system that has helped Renewal by Andersen replace more than two million windows in more than 300,000 homes.
Pre-Installation Custom Measurements
The process begins with our factory trained professionals taking notes and measurements to assure your home receives the care necessary to make you happy.
Step One: We Arrive at Your Property
Once our installation crew has proper measurements, our crew from Renewal by Andersen of Northwest Ohio comes to your home ready for the job ahead. Our crew has every tool and piece of knowledge to create eye-catching designs to make your home feel new again.
Step Two: We Construction-Proof Your Home
We understand the worries associated with window replacement. To counteract this stress, our team carefully removes furniture and valuables away from your windows and doors to avoid damage. Our team wears protective footwear to ensure cleanliness.
Step Three: We Take Out Your Old Windows
Once our team properly sets up in your home, they remove your obsolete windows. Our crew puts their knowledge to use, to avoiding dust and debris buildup in your home.
Step Four: We Install Your New Windows
Thanks to our pre-installation measurements, your old windows pose no threat. If the open area has warped (a common occurrence), we realign and readjust the levels to allow the new replacement windows to fit properly. We then test every aspect of your replacement windows to ensure they open and close easily; and that the sashes of the window operate properly.
Step Five: We Weatherproof Your Home
Although a small gap between your new windows and the house frame exists, our installers fill this with a special insulation foam to eliminate any drafts. Once in place, your windows will be airtight, weatherproof and energy efficient.
Step Six: We Put Our Finishing Touches on the Job
The foam used to insulate your windows is covered with a trim that has been specifically designed to match your window exterior.
Step Seven: We Clean Up and We're On Our Way
When delivered, each of your new windows comes with a protective film. Step seven involves the removal of the protective film, the cleaning of the work area, the shining of any glass areas and putting your furniture back in its proper place.
FREE Estimate on Window Replacement for Toledo Ohio Area Homeowners
Don't hesitate to upgrade the appearance and energy efficiency of your home. Call the local experts at Renewal by Andersen of Northwest Ohio for a free consultation on replacement windows and doors.
"Renewal by Andersen" and all other marks where denoted are trademarks of Andersen Corporation. © 2015 Andersen Corporation. All right reserved.